A range of activators, primers and cleaners used to improve performance and adhesion to difficult to bond substrates. Ideal for degreasing and preparing surfaces to be bonded.
For Use With Delta Instant Adhesives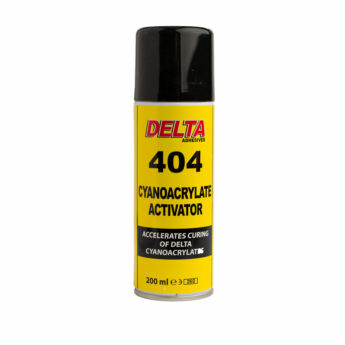 D404 Cyanoacrylate Activator Aerosol
Specifically formulated, non-yellowing aerosol activator suitable for use with all Delta cyanoacrylate
grades to accelerate the cure rate, prevent penetration of adhesives into porous materials and improve bonding to difficult surfaces. Use in conjunction with Delta Cyanoacrylate adhesives to give an "on demand" cure, instantly solidify excess adhesive outside the joint space and minimise post-cure discolouration.
Product Code: D404
Size: 200ml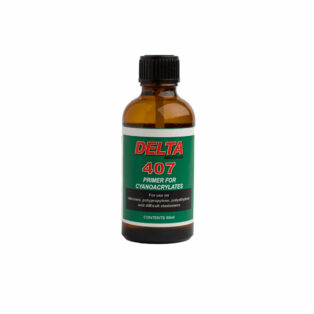 D407 Polypropylene Primer
Suitable for use on all industrial plastics to improve the adhesion of instant adhesives on polyolefin and other low surface energy plastics. Often used in assembly or repair jobs where difficult to bond plastics, silicones, polypropylene, polyethylene and difficult elastomers are used.
Product Code: D407
Size: 50ml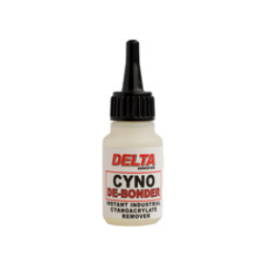 D412 Cyanoacrylate De-Bonder
A non-flammable, solvent based liquid formulated for the effective removal of Delta cyanoacrylate
adhesives. Ideal for removing small areas of cured and uncured Delta cyanoacrylate adhesives. Can be applied with a brush or cloth to ensure a clean finish to bond lines and surfaces.
Product Code: D412
Size: 50ml
For Use With Delta Anaerobic Adhesives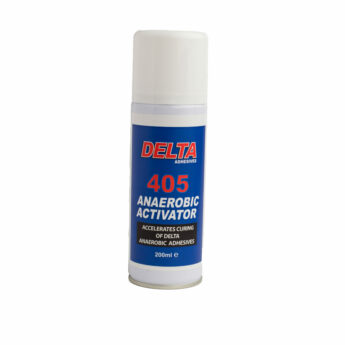 D405 Anaerobic Activator Aerosol
Speeds the cure of all anaerobic fluids and pastes and extends the cure through volume, helping the fixture time and reducing the ultimate cure time. For use when materials are inactive (plastics, passive metals or inert surfaces) or where the temperature is under 15°C. Spray or brush onto one or both surfaces. It may be necessary to treat both surfaces in the case of big gaps or where more activity is required.
Product Code: D405
Size: 200ml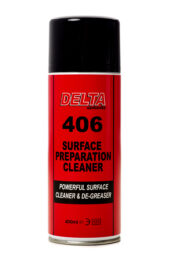 D406 Surface Preparation Cleaner Aerosol
Specifically formulated for degreasing and cleaning substrates prior to bonding. The chemical composition leaves a surface free of grease and contamination, making good surface adhesion possible. Used to decontaminate all metal and certain composite substrates prior to bonding with Delta high performance adhesives. Do not use on soft plastics or foaming products, which may be attacked by the solvent nature of the product.
Product Code: D406
Size: 400ml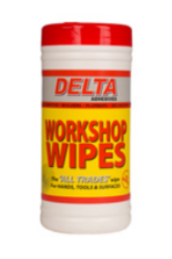 Specifically formulated to clean off wet and semi-cured paint, sealant, adhesive, bitumen, expanding
foam, oil, grease and even silicone. Particularly useful when there is no water on site. Contains a powerful anti-bacterial additive in addition to lanolin to condition the skin. used to clean wet and semi-cured paints, sealants, adhesives, bitumen, polyurethanes, expanding foams, polyester fillers and epoxies from hands, tools and surfaces. Removes dirt, grime, finger marks, grease, petrol, inks, food stains, part-cured sealant and paint, polypropylene, polyethylene and difficult elastomers.
Product Code: D520
Size: 100 pack
Do you have questions about our products or would you like to partner with us?